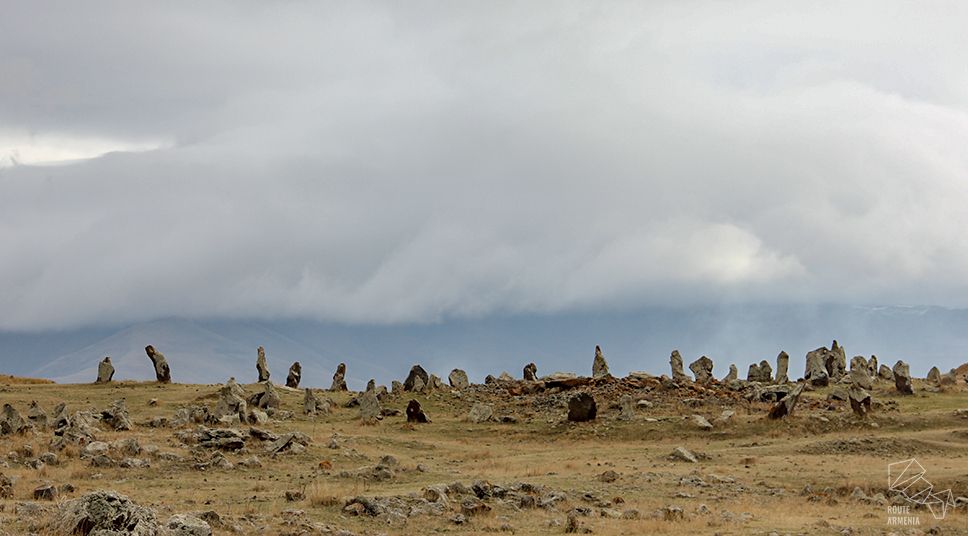 Silk Road of Armenia: Ancient Stones
Despite all the noise made by the machines at the TV station, I sleep well, and wake up around 7 AM just as Azat comes out of his room to start his new day at work. We drink coffee, then walk around the station. Nairi arrives at 9:30 AM. He cancels our plans for the morning, telling that he has to stay at the station because of some unexpected problems that need to be fixed. "But don't worry, Azat will take you to Moz and will show you around," he adds. Moz, a famous trading center in medieval times, is our next stop along the Silk Road of Armenia. We thank him warmly, get into Azat's car and slowly drive down the mountain.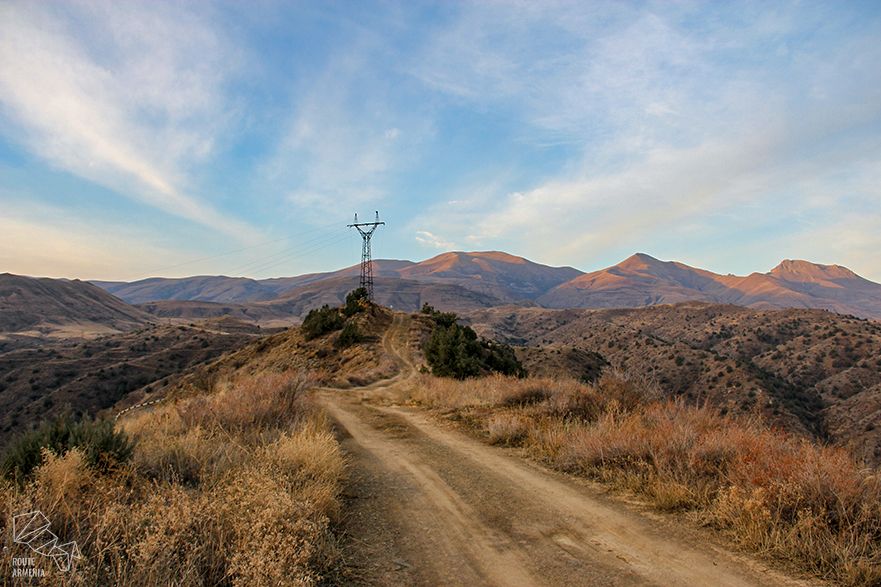 Originating in the Bronze Age, the settlement of Moz was a famous medieval commercial and craft center with a population of several thousand people in the 7th-8th centuries. Unfortunately, almost nothing is left of Moz today. Once a major stop on the Silk Road network, Moz was destroyed in a massive volcanic eruption and earthquake in 735 AD. What we see as we arrive is a deserted terrain, and only few information boards indicate that the area was once a thriving city back in old times. We wander around, take photographs, while Azat tells us the history of the place. "You see that mountain? That's the volcano that destroyed Moz," he says.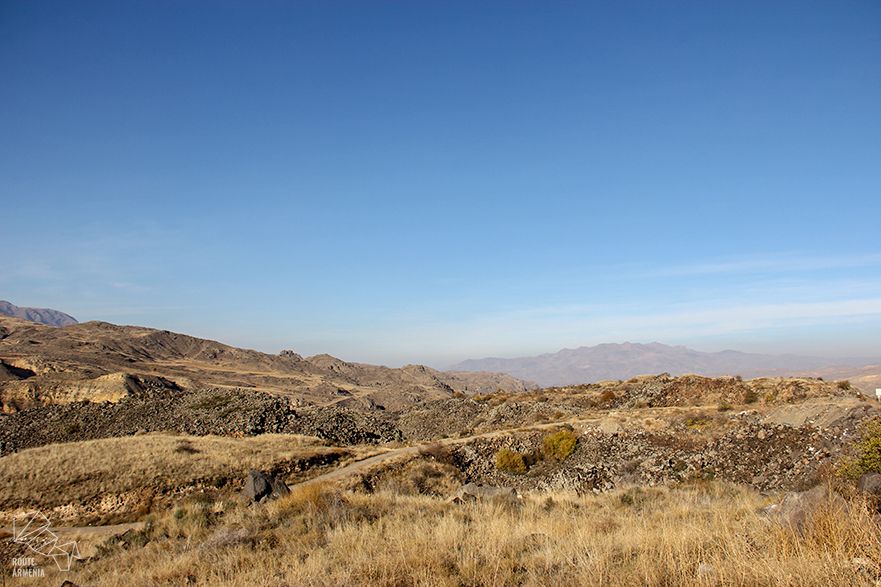 We then return back to Vayk. Azat invites us over to his home, where we meet his family. They treat us with coffee and sweets. While I talk to Azat's wife, Emée is having a conversation in German with his daughter, who works at Vayk's social center.
We take our breakfast on the outskirts of Vayk by the river Arpa, then hitchhike up to Syunik province to visit an ancient archeological site called Zorats Karer (also known as Carahunge, or "Armenian Stonehenge") – a megalithic composition of Bronze Age tombs and over 230 standing stones. The driver who picks us up from Vayk, jokes and asks questions about hitchhiking all the way.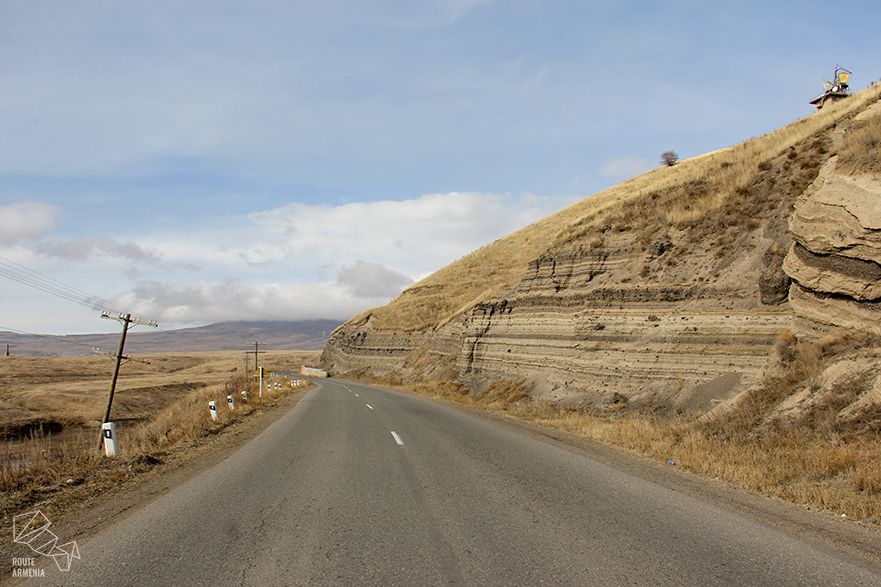 He drops us off at the turn to the historical complex, we walk along the rocky road until another car stops by us. Turns out that the driver, a young guy named Andranik, works at the little souvenir shop here. Together with his friend Samvel they invite us in, and we get another cup of coffee. Andranik takes us on a tour around the stones of Zorats Karer. We enjoy his company and stories about the place and its history.
Located near the city of Sisian in the Syunik province of Armenia, this ancient archeological site sits on a mountainous plateau 1770 meters above sea level and occupies about 7 hectares of land. Although many researches were conducted, until today there is no consensus among the scientists related to the age and the origins of Zorats Karer. Some claim the complex is a necropolis built not earlier than the 3rd millennium BC, others think it was built during the 4th millennium BC. Our new friend Andranik himself was an adherent of another theory, according to which Zorats Karer is an ancient observatory, 7500 years old.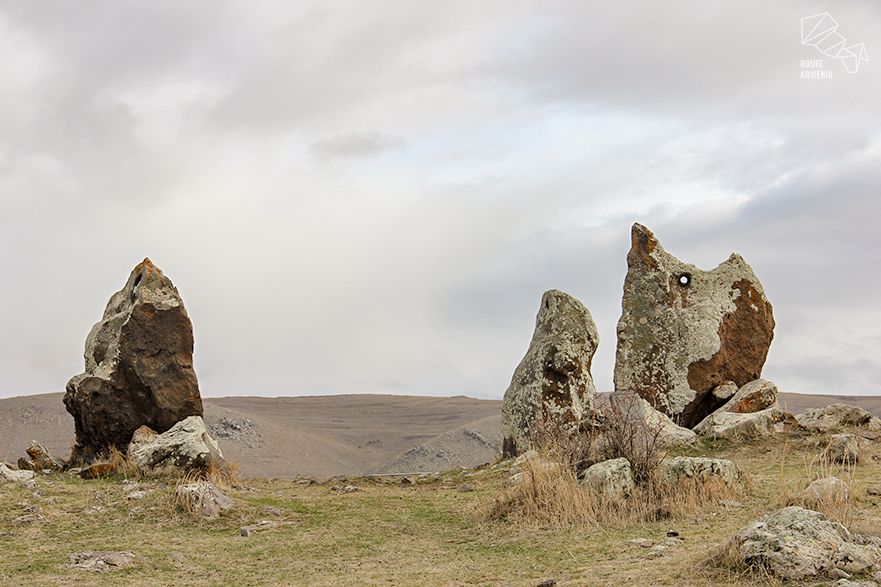 The weather gets colder. We walk back to the road through a vast field, exposed to all the strong winds. Soon we get a lift from two friends who are on their way to the Republic of Artsakh. "You are the third today. We picked up other hitchhikers two times already since we left Yerevan in the morning," tells us the driver as we get in. "It feels good to help people. Why not to help if we can?" his friend adds. They drop us off at the crossroad to the village of Tatev. The thick fog swallows everything around, we barely see what's a few meters ahead of us. We drink tea in a dirty cafe at a gas refilling station, then walk towards Tatev. A dog watches us disappearing into the fog.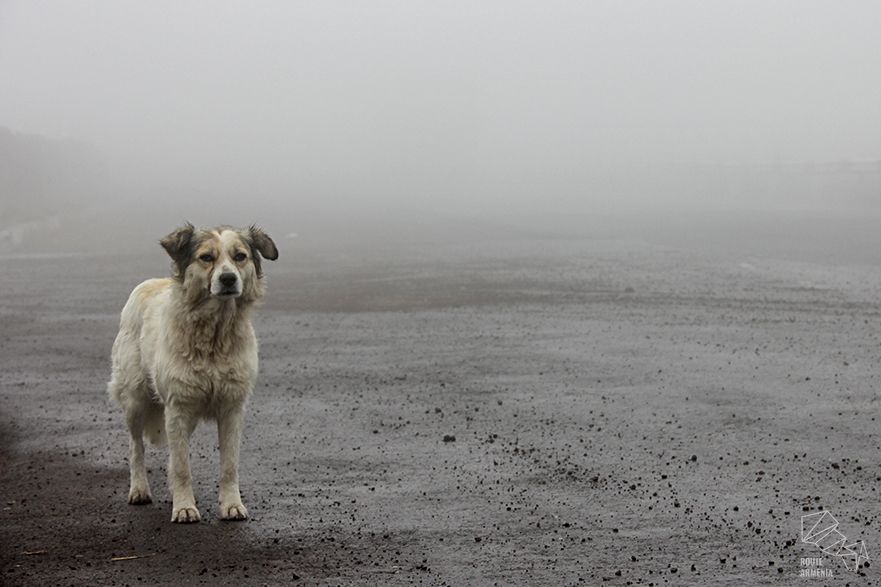 It's a bit of a trouble to hitchhike in the fog when you don't really see if a car is coming your way or not. And when you finally see it, you don't have time to raise your thumb. But the luck is on our side, and as we slowly walk along the edge of the road, a Lada Niva stops by us. "It's a long way to Tatev, get in, the weather is bad today," says the driver. We drive down the Vorotan gorge and then up the muddy road to the village. When we arrive in Tatev, our driver, Gago, offers us to stay overnight at his place. His place turns our to be a guesthouse charging travelers about $10 per person per night. We thank him for his help and offer, and walk to the monastery of Tatev.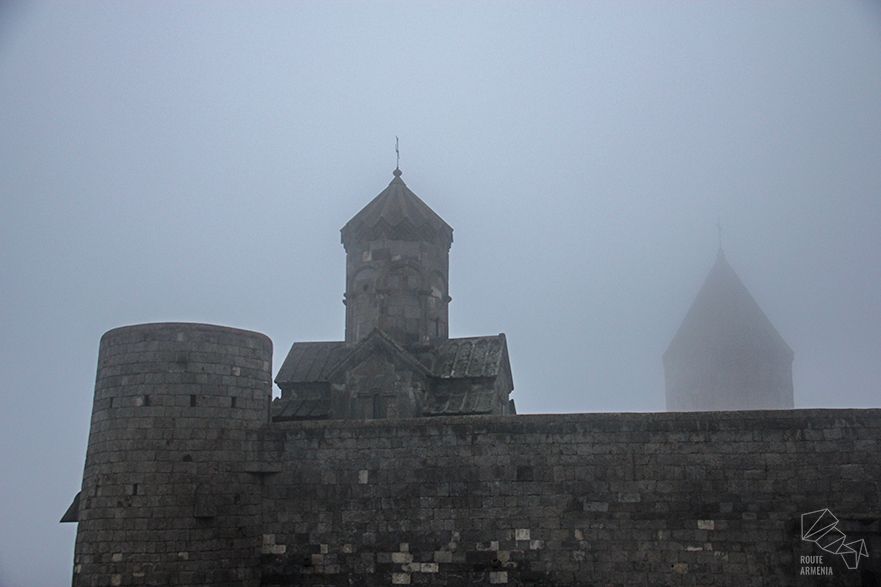 The village looks gloomy in the drizzle. We pass by an old lady who suggests us to stay at the guesthouse we just left. As we reach the gates of the monastery, we meet a group of people. Upon seeing us, they give us some fruits. We thank them. They walk to their cars. While me and Emée are trying to decide what to do, they come back and give us bread, cheese and a tomato. "Are you going to spend the night at the monastery?" they ask before leaving. "Maybe," we say.