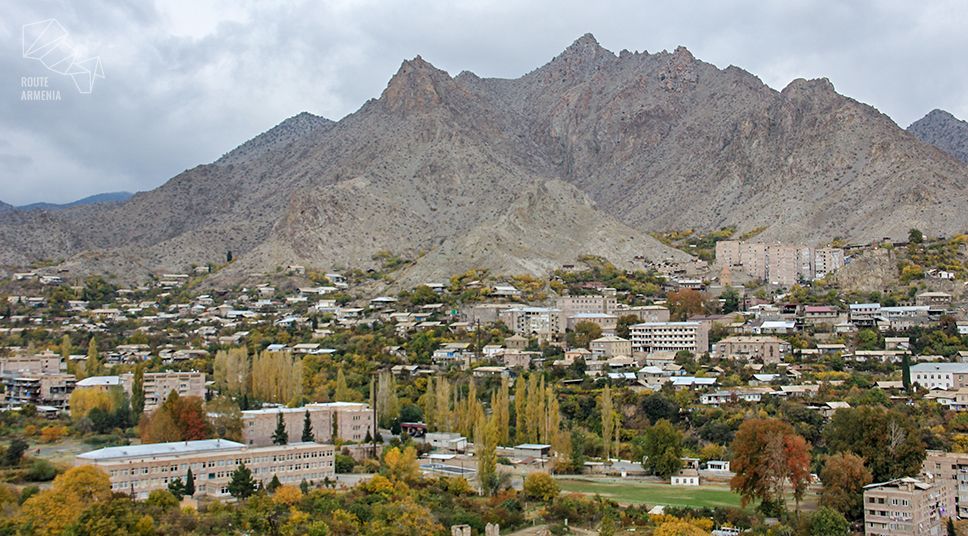 Silk Road of Armenia: In the South
After a delicious breakfast, we thank Gayane for their hospitality, and leave Kajaran, walking our way out of the town under rain. We get stuck for about an hour on the outskirts of Kajaran. The weather is cold. The petrol trucks from Iran pass by honking their way up and down the Kajaran mountain pass. We play guitar and sing songs. This is the final day of our hitchhiking trip along the Silk Road of Armenia.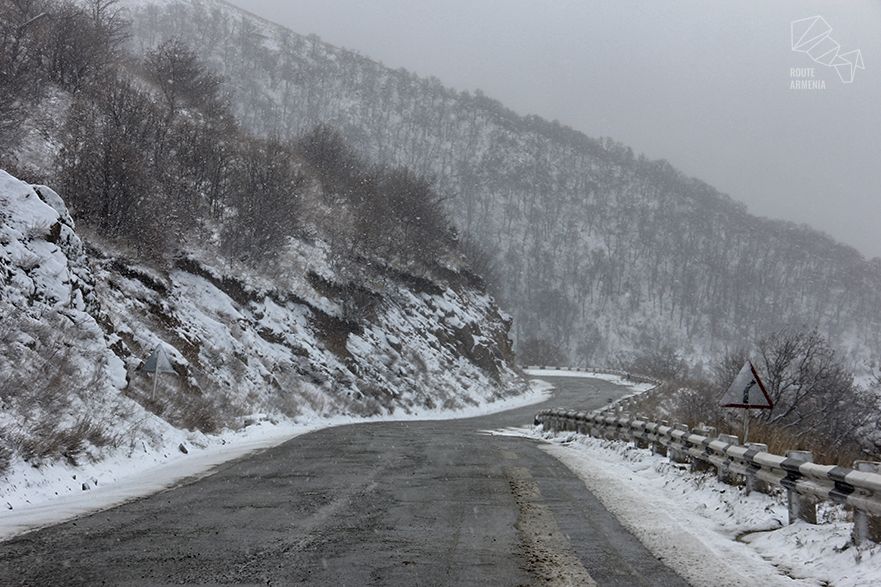 At last, a retired policeman picks us up from the Road and offers us a ride all the way to the town of Meghri, our last stop on the route. As we drive up the mountain pass, the weather changes dramatically, and soon the gloomy and rainy autumn is replaced with cold and snowy winter. Our driver, a mid-aged man, drives carefully – the road is slippery, and none of us has a desire to fall down into the deep canyon on our right. On the other side of the Kajaran mountain pass the weather changes once again, and as we drive into Meghri, we see colorful fruit trees of persimmons, tangerines, and pomegranates.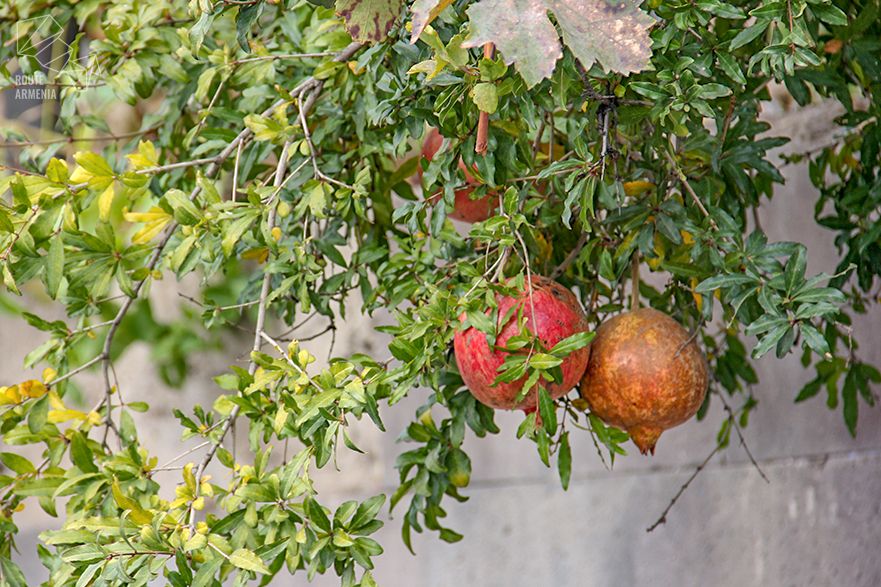 The ex-policeman drops us off in the center of Meghri. "I will probably stay in the town tonight, give me your phone number, if I'm here, I'll invite you over for a drink," he says. After exchanging phone numbers he drives away, and we never see him again. It takes us about thirty minutes to walk to the other side of Meghri, where the Old Town is located. Locals call it "Pokr Tagh" (Small District). Pokr Tagh is a labyrinth of narrow streets and alleys that run between two or three-storey houses with wooden balconies. Passing by one of the houses, we notice bright orange garlands of persimmons hung to dry in the sun. As we stop to take photos, the owner of the house greets us and invites us in. The yard is full of boxes of nuts and fruits. As we enter the house, Armen, our new friend, begins to open every single cupboard and shelf in search of cups, sweets, nuts. "Armenian husbands are like this, they never know what's where. Usually it is the wife who takes care of the house," he says and laughs.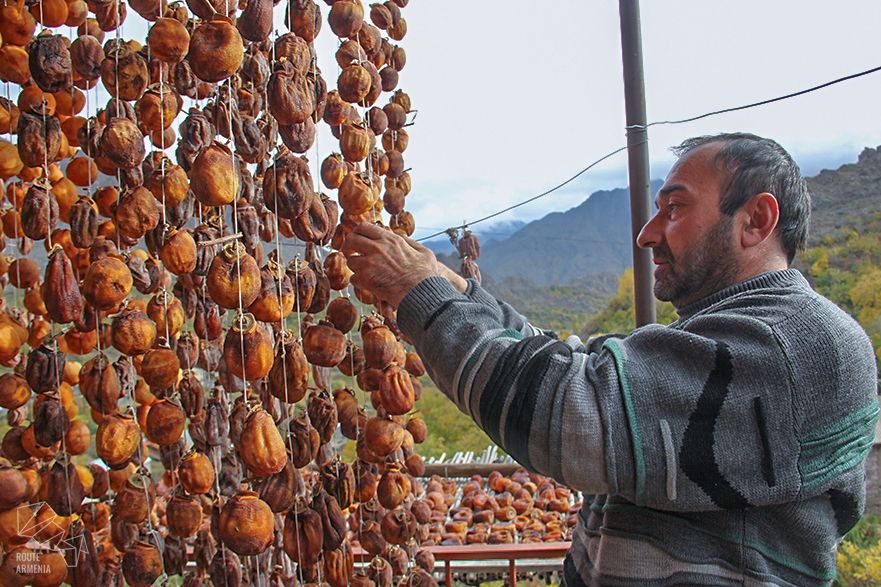 Meanwhile his friend Mikael prepares coffee, and when it's ready, we sit around the table. But all of a sudden, Armen takes out wine glasses, a huge bottle of homemade wine, and also cognac. This is when we realize we are trapped! Invitation to drink coffee is never just about coffee in Armenia… and so we drink – to friendship between Armenia and France, to children, to parents. In the course of the next two hours we finish all the alcohol in the house.
Drunk and quite merry, we are still hoping to get to the town of Agarak at the Iranian border to officially complete our Silk Road trip. "Don't worry, I'll call a friend, and we'll take you there," says Armen, and then adds. "But have you seen our church?" The church he talks about is the St. Sargis basilica built in 17th century, featuring unique oriental style frescoes. We take a walk to the church, and then wander around the houses of the old town. Then they drive us to the border, and there, not even being able to get out the car to take photos, we finish our journey. Technically. Because our adventures in Meghri continue.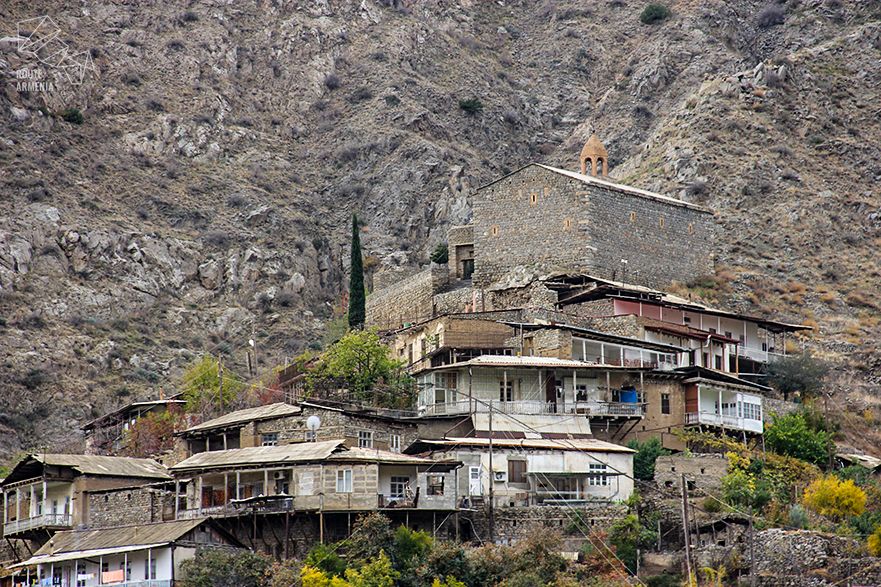 "You must be hungry by now. We've booked a table at a nearby restaurant, so let's go to eat," says Armen when we're on the way back to Meghri from the Armenia-Iran border. I look at Emée, frightened. Where there's food, there's also drinks. Homemade fruit vodka, in particular. But this was just the beginning. Once we're done with out feast, Armen announces that since it's now late, we are going to be his guests for this night. "Besides, my wife is already back from work, she has already prepared a dinner for us all. The table is served so let's go home," says our host. "Jesus! We're in trouble. Get ready to drink for the rest of the night," I whisper to Emée.
On the way home we pick up our friend and fellow hitchhiker Jo Magpie, who just arrived in Meghri and with whom Emée was to hitchhike to Iran. Back at home, we find a large table full of food and drinks. Armen's wife, Tsaghik, invites us to sit down. The evening continues. We drink, eat, share stories and tell jokes, play music, and raise toasts. "Remember! This is your home. Whenever you are in Meghri, come here right away! And everything will be fine! And thank you for accepting our invitation to be our guests tonight," raises her glass Tsaghik.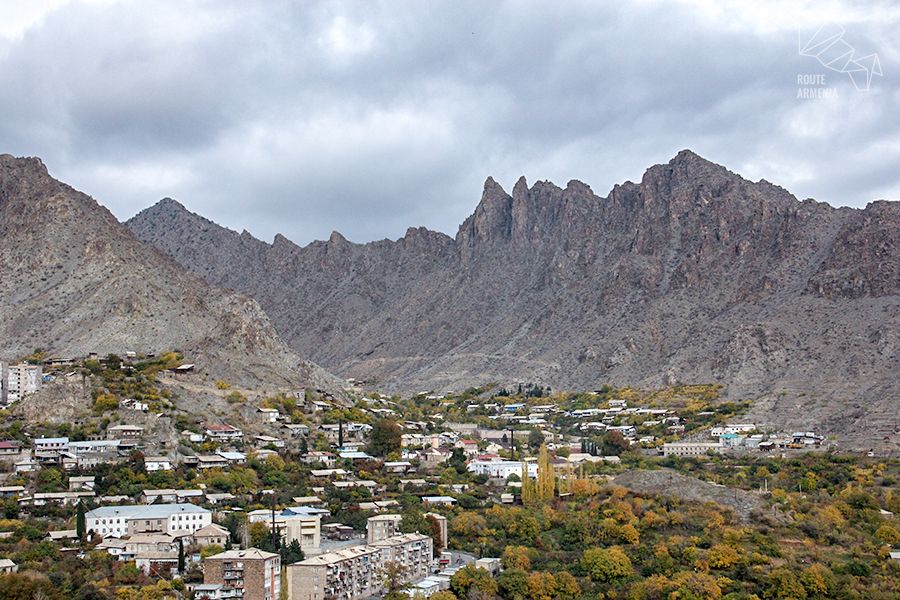 It's far past midnight when we go to bed – drunk and happy. Half awake, half asleep I hear wolves howling and dogs barking into the night. The journey is over. Our 8-day hitchhiking trip along the Silk Road of Armenia comes to its end. We are heading back home tomorrow. In a taxi that gave us a free ride from Meghri to Kapan the next day, talking to the driver about our adventures, I was trying to sum up the journey in my mind. Did I find the answers I was looking for? It didn't really matter. Our trip was beyond any questions, ideas, routes and destinations. There was something more important – the people, their daily routine, their smiles and their sadness. People who keep smiling despite all the difficulties they go through. People who willingly share everything they have with complete strangers, without asking anything in return. I thank the Road for taking care of us during our journey, and let Morpheus to carry me away.